Closed Beta Test 3 - Patch Notes and Server Opening Times
We're finally getting close to the next closed beta test for TERA. The 3rd CBT will offer an increased level cap as well as some changes and additions. You can check out the complete patch notes below.
Opening Times:
Our servers for CBT 3 will be available between Friday, the 16th of March 2012, at 3pm until midnight on Sunday, the 18th of March 2012.
All times are CET / GMT +1.
Level Cap and new areas to explore:
By increasing the level cap up to 32, you'll have access to some new areas to explore. Together with these new areas, you'll also be able to check out additional open world dungeons: Azarel's Labyrinth, Tenebrous Mines and Pirate Grotto. This way you can experience a lot of new quests and some new dungeon action for solo and group fun.
The costs for guild versus guild battles were drastically decreased, so you should now be able to try out this feature on our PvP servers.
Server Setup and Languages:

Server 1: Arborea – Type: PvE – Language: EN/EU
Server 2: Velika – Type: PvE – Language: EN/EU
Server 3: Essenia – Type: PvP – Language: EN/EU
Server 4: Westonia – Type: PvP – Language: EN/EU
Server 5: Sylvanoth – Type: PvE – Language: DE
Server 6: Baldera – Type: PvE – Language: FR

We encourage every new player who is interested in international PvP to join the server "Westonia", as "Essenia" is currently crowded. If you wish to avoid possible server queues, we suggest joining the folks on "Westonia".
Event for CBT 3:
With CBT 3 we'll activate a small in-game event. During the CBT 3 you'll be able to find festival surprise boxes all over the world of TERA. Those boxes contain different items like firecracker, different crystals, teleport scrolls and more. So be sure to keep your eyes open for a box like this one: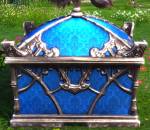 Patch Notes – CBT 3:
Guild vs. Guild changes:

Based on the latest feedback, the costs for the guild vs. guild battles have been reduced for the closed beta tests:

To declare war: 30,000 Gold instead of 3,000,000 gold
To forfeit: 3,000 Gold instead of 300,000 gold

UI changes & Chat Channels:

The command "/bug" was added (remove the quotation marks if you want to use this command in-game). This will bring up the support UI.
In response to the latest feedback, we set two server-wide chat channels to be off by default (Trade and LFG). These channels can be turned on if you want to have them displayed again. Remember to use the correct channels for your communication and watch your language at all times.
Some players reported problems with the legibility of certain displayed texts so we changed the default UI scale from 80 to 90 to improve visibility. Remember that you can change the scale of the UI yourself in the options menu so you can choose the best possible setting for your playing style and reading preferences.

Quest Changes:

A lot of people tried to hunt down Vekas and other quest-related monsters during the first CBT. Vekas will now spawn three times per channel in the same area and we have also adjusted the spawn timers of the following monsters:

Vekas: 20 sec -> 10 sec
Acharak: 20 sec –> 10 sec
Kugai: 20 sec –> 10 sec

In order to finish the mount quest at level 11, players are no longer required to collect carrots so that the quest can be completed within Velika.
The quest "Ride off into the Sunset" is no longer a prerequisite for the outlaw skill quest.

Bug Fixes and Other Changes:

Several text updates for all language versions have been implemented
Several achievements have been disabled for the current beta and will be active again at a later time.
A previous issue in which the client crashed due to server changes has been fixed. Players should no longer experience client crashes when selecting a different server while in an active server queue.

Fixes have been applied to the display of the server list, as some players could not always see the active list of servers.
Additional information:
In case you missed the general PvP and PvE server information from CBT 1, you can find it right here.
General information on all the dates and character wipes until release can be found in our overview.
Your characters won't be deleted until the end of CBT 5, and there is no NDA in place for our tests, so you're free to take and share screenshots and videos.
Everyone who redeemed a valid pre-order or CBT key will be able to participate in CBT 3.
You don't have a key yet? Then head over to our pre-order page to gain access to all the remaining test sessions.
We also added new sub-forums for the ongoing beta tests and localization forums, in case you want to submit feedback.
Link: Forum