Closed Beta Test 4 - Patch Notes and Server Opening Times
Our fourth closed beta test for TERA finally comes near, so we want to provide you the latest information about some additions and changes. Please find all the details below.
Opening Times:
The servers for CBT 4 will be available between Friday, the 30th of March 2012, at 3pm until midnight on Sunday, the 1st of April 2012.
All times are CEST / GMT +2.
Level Cap and new areas to explore:
The new level cap will be 38. With the increase of the level cap you'll be able to explore new areas of the game. You'll also be able to enter the dungeon Eldritch Academy, take a look at the Dark Cathedral and the instanced dungeon Cultists' Refuge which awaits brave adventurers.
Server Setup and Languages:

Server 1: Arborea – Type: PvE – Language: EN/EU
Server 2: Velika – Type: PvE – Language: EN/EU
Server 3: Essenia – Type: PvP – Language: EN/EU
Server 4: Westonia – Type: PvP – Language: EN/EU
Server 5: Sylvanoth – Type: PvE – Language: DE
Server 6: Baldera – Type: PvE – Language: FR

If you are new and interested in PvP we encourage you to join the server "Westonia". The "Essenia" server is currently crowded, so if you want to avoid server queues we recommend joining the players on "Westonia".
With CBT 4 you'll also have a 3rd character slot available.
Event for CBT 4:
CBT 4 will offer you a new in-game event. Opposite to the upcoming Easter holidays, there are evil Caiman Egg thieves out there. Hunt the thieves down and you will be rewarded with eggs. These eggs contain various items like dyes, campfires, teleport scrolls, crystals and many other things.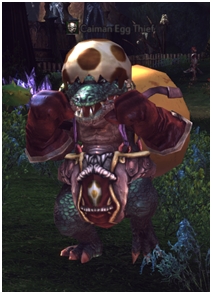 Patch Notes – CBT 4
Controller changes:
A controller command was added (/controller), which will now open the controller options.
The controller camera default setting is now set to camera- or crosshair-facing instead of a character view.
It is now possible to hold down the main attack controller button to activate the chain skills. It is the same for holding down the mouse button.
Player versus Player changes:
Based on the latest feedback, the PvP server settings were modified. You'll now earn Infamy Points whenever you kill players with a difference of 6+ levels. The distribution is as following:


Same level up to 5 levels difference – 0 points

6 to 10 levels difference – 60 points

Over 11 levels difference – 120 points

Infamy Points will decrease by one point every five minutes and it is also possible to reduce them by killing monsters at your level or higher.
Even one point will label you as an outlaw with a red name above your head. There's no penalty from our side but maybe from the community, so you better watch out!
Quest changes:
Strife in the Fey Forest (Artful Gracebloom gathering quest)

Spawning location was changed so that it's closer to the next village.
Respawn timer was reduced from 30 sec. to 10 sec.

Keeping the Quota (Wood collecting quest)

Increased spawn locations from 10 to 19.
Respawn timer was reduced from 90 sec. to 10 sec.

"Likhan quest"

Increased spawn rate of Likhan from 1 to 3.

The Faerie Emissary

"Faries in a Fix" is no longer a prerequisite to this quest.
Additional changes:
A five-second cooldown was added for switching between channels for both PvE and PvP servers.
Implemented a new "Exchange" UI

"Exchange" was re-named to "Claim Item"
There are two tabs – "One Time Items" and "Account Items"
At the moment you won't need this UI. Probably your first use of this will be when claiming your pre-order or Collector's Edition items.

Channels will now be added or removed based on the population.

Additional Information:
General information on the beta schedule and character wipes until release can be found here.
If you missed the information about the PvE and PvP servers, you can look it up in the news about CBT 1.
Everyone who owns a valid pre-order or CBT key will be able to participate in CBT 4.
In case you haven't pre-ordered yet and might miss the bonuses, head over to our pre-order page and get access to all remaining test sessions.
Link: Forum