Event: Cubes of Doom for Halloween
Do you dare unleash the terrors of the cube? For the coming Halloween we've prepared a spooktacular event, during which time you'll receive Cubes of Doom full of interesting and valuable items. Open the cubes and with a bit of luck you might find a Liberation Scroll or one of the new Phoenix Skills!
Event Overview:
---
Video: Phoenix Skills
Effects:
The Phoenix Skill: Mighty Icewynder and Mighty Flamewynder grant the following passive effects:
Restores 1% of your max MP and HP every second.
You also learn the passive skills "Flaming Aura" and "Phoenix Avatar".

Flaming Aura: Uses the Aura of the Phoenix to have a set chance of increasing crit power against monsters by 50%.
Phoenix Avatar: The power of a phoenix protects you from death. The effect can occur only once per day.
When the phoenix skill is learned, Flaming Aura will overwrite any previously learned passive effects of the same rank such as Ruler of Dragons (1.5 crit effect of the dragon skills).
---
Purpose of Cubes of Doom
The cubes come in a total of eight levels, starting with the regular Cube of Doom and finishing with the Fiendish Cube of Doom.
If you have a cube in your inventory of whatever level, by right-clicking on it you can use it and try to turn into an even creepier cube. Depending on the level of the cube, you can get a variety of items from it.

(Unique) Cube of Doom Turns into either a Cryptic Cube of Doom or Spectral Dust upon use.

Cryptic Cube of Doom Turns into either a Spooky Cube of Doom or 2x Spectral Dust upon use.

Spooky Cube of Doom Turns into either a Grisly Cube of Doom, 120x Metamorphic Emblem or 3x Spectral Dust upon use.

Grisly Cube of Doom Turns into either a Terrifying Cube of Doom, 240x Metamorphic Emblem or 4x Spectral Dust upon use.

Terrifying Cube of Doom Turns into either a Creepy Cube of Doom, 600x Metamorphic Emblem or 5x Spectral Dust upon use.

Creepy Cube of Doom Turns into either a Cursed Cube of Doom, a Trick or Treat Candy or 1500x Metamorphic Emblem upon use.

Cursed Cube of Doom Turns into either a Fiendish Cube of Doom or a Ghoulish Gateau.

Fiendish Cube of Doom Turns into a Devil's Picnic Basket or can be transformed into an Urn of Nightmares using the Magic Tombstone Fragment.
Using the first five levels of cube can result in them decaying into Spectral Dust – but right-clicking on 15 lots of dust will fuse them back into a new Cube of Doom.

Spectral Dust Mystical dust of an ancient spirit. Right-click to fuse 15 lots of Spectral Dust together to receive a new Unique Cube of Doom.
Where to Get Cubes of Doom
Cubes of Doom can be obtained in different ways, for example in the dungeons listed here, or via the TERA Shop.
From the TERA Shop

Spooky Halloween Package From today you'll find the Spooky Halloween Package available in the TERA Shop! This package gives you a quick and easy way to get a Cube of Doom, together with a Peculiar Pumpkin Cake that replenishes 15% of your total HP instantly on use.

Magic Tombstone Fragment Right-click to transform 15 Fiendish Cubes of Doom listed below into an Urn of Nightmares , containing:
1x Liberation Scroll
1500x Promise of the Damned
---
Mummy Bandages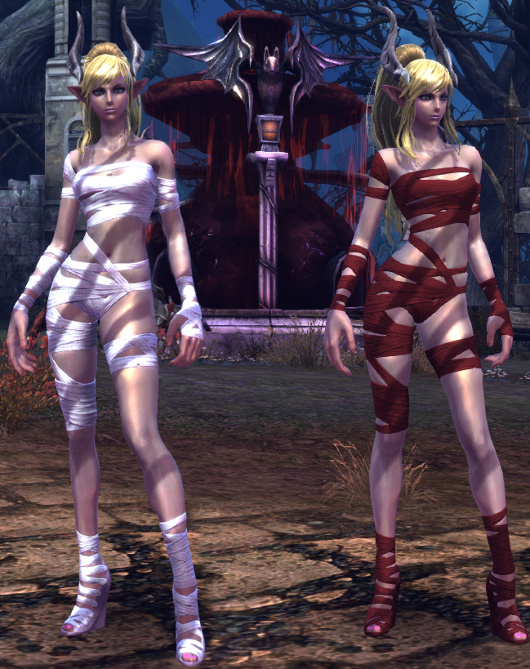 ---
From Dungeons
For the whole event duration you'll be able to pick up Cubes of Doom in various amounts from level 65 dungeons. The dungeons are split up as follows:
Ghillieglade (00:00–23:59)

Saturday, 21st October to Sunday, 22nd October 2017
Saturday, 28th October to Sunday, 29th October 2017
Saturday, 4th November to Sunday, 5th November 2017

Tuesday, 17th October (11 AM) to Tuesday, 24th October 2017 (5 AM)

Kalivan's Challenge
Thaumetal Refinery
RK-9 Kennel
Lilith's Keep (Hard)

Tuesday, 24th October (5 AM) to Tuesday, 31st October 2017 (5 AM)

Ravenous Gorge
Kalivan's Dreadnaught
Thaumetal Refinery (Hard)
RK-9 Kennel

Tuesday, 31st October (5 AM) to Tuesday, 7th November 2017 (5 AM)

Shattered Fleet
Lilith's Keep
Thaumetal Refinery (Hard)
Sky Cruiser Endeavor
---
The Creepiest Prizes
The Trick or Treat Candy, the Ghoulish Gateau and the Devil's Picnic Basket all contain amazing items. The highlights amongst them include:
Promise of the Damned

Right-click to open the Shop of the Damned to get, amongst others, the Phoenix Skills!

Up to 80000 Metamorphic Emblem

Opens the Metamorphic Emblem shop, where you may exchange emblems for enchanting materials.

Liberation Scroll

Liberates +7 equipment from soulbound and/or bind-on-pickup, resetting its status to tradable and bind-on-equip.

Combat Accelerator Potion

Reduces the cooldown period for all skills (except for alliance skills) and increases MP regeneration for 30 minutes.

Niveot Chests of the Master Fusioneer

For crafting indestructible crystals.
Link to the PDF with all rewards: LINK.
Please note: The rewards in the cubes will remain after the end of the event, but no new cubes can be obtained.
Wishing you a creeptastic time!
The TERA Team