Event: Power to the Kobolds
Arborea's come over all green! Kobold King Yareth has awoken and has only one thing on his mind – playing tricks! When the planets align on the weekend of St Patrick's Day, this great eejit will unleash his beastly minions to make a fierce mess all over Arborea.
Take up the challenge to free Arborea from those pesky chiselers and hoover up the treasures they drop. There's great craic and (green) rewards to be had – items like riding skills, hair decorations, costumes and a variety of consumables!
Event Period

• Start: 16th March 2019 at 0:01 AM

• End: 17th March 2019 at 11:50 PM
Areas:

• Southern Arun

• Southern Shara

• Northern Shara
Know Thy Enemy – Monster Overview

Skulking Redcaps appear all over Southern Arun and can be defeated with just a single blow. The most valuable item in their possession is a permanent Emerald Tail.

Meanwhile in Southern Shara there's a plague of Centaur Wardens which similarly need just one blow to be defeated. Their biggest treasure is the River Dokkaebi Hanbok.

Finally, Northern Shara is beset by Tuwangi Frogriders which are likewise vanquished with just one blow. They'll defend their Green Spectral Weapon Skins with their lives.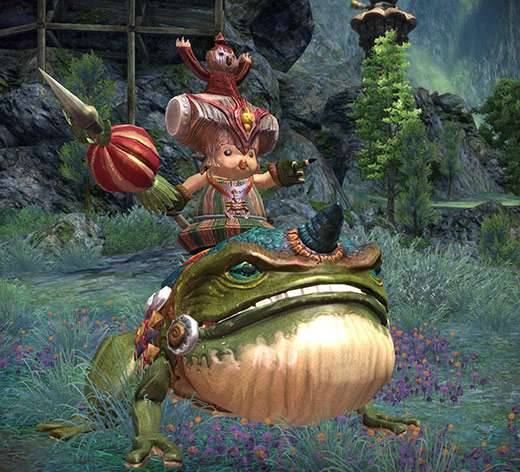 Let's Go Hunting – The Monster FAQ

In which area/channel can I find the enemies?

The enemies are summoned simultaneously in all the indicated zones and available channels. If one of them is killed, it will reappear at a different location.
I've found a target. What now?

It's time for knuckle supper! It doesn't matter whether you're level 11 or 65. A single blow is enough to defeat the enemies automatically.
Will there be rewards?

For each defeated enemy, you'll receive one of a variety of different items. These include a River Dokkaebi Hanbok, the Riding Skill: Emerald Tail, a green Training Speedster or mint green Racing Speedster for 30 days, a Green Spectral Weapon Skin plus various tokens and consumables.