Patch 59.03 – Demoros' Roulette
Ready for a diabolical game? The door to Demoros' Roulette opens with Patch 59, which hits our servers on 5th September. Awaiting you are the new, treacherous tricks of the two boss monsters Turgas and Demoros, who bear a certain resemblance to Bandersnatch and Valona…
You can also transform your jewelry into stronger versions with the help of some new items, and equip yourself with the new circlets!
---
NEW: Demoros' Roulette
For 5-player groups
Teleportal outside Allemantheia
Min. required item level 423
Accessible from level 65
Two boss encounters
2 daily entries, 4 for club members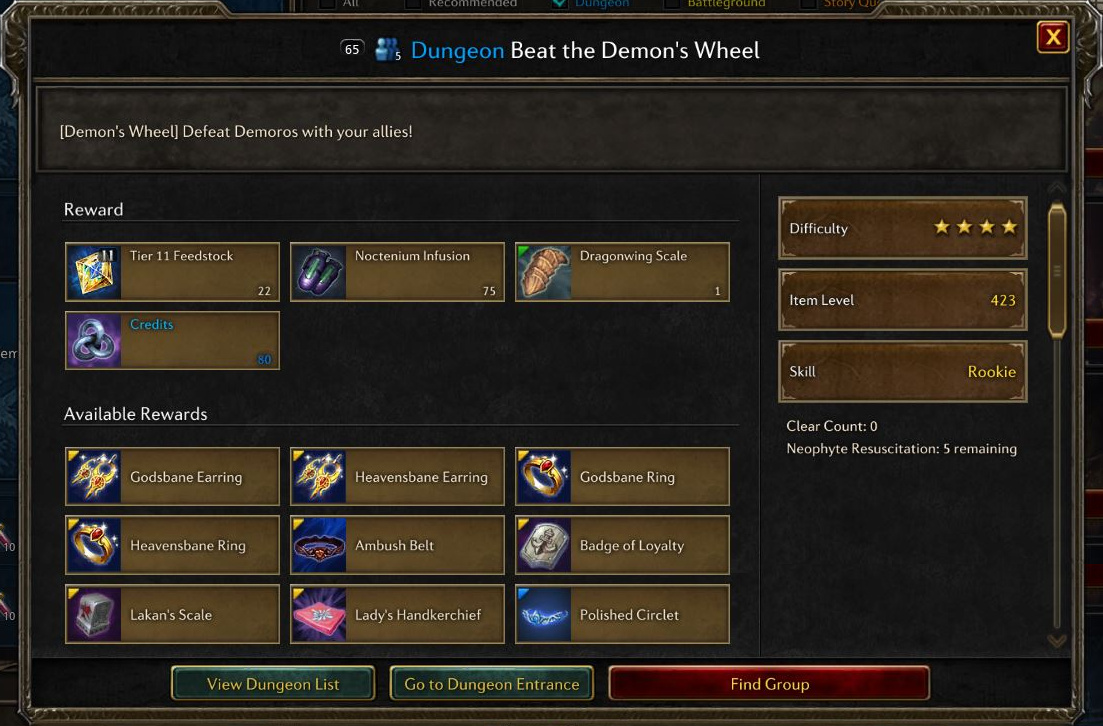 ---
NEW: Better artisan accessories
With the new materials from Patch 59, you can enhance your existing jewelry and get hold of new circlets: get Demoros' Circlet and Demoros' Luminous Circlet by collecting fragments of Demoros' Circlet and creating these items.
There are also new artisan magic stones for necklaces, rings, and earrings.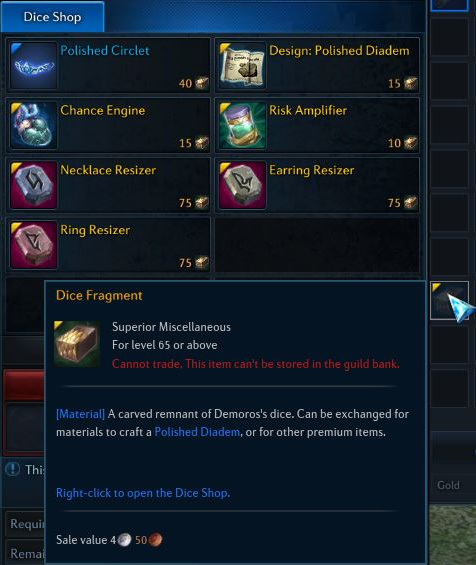 ---
Class Skill Changes
All classes (except Reaper)
Many skills can now be learned and used earlier
Reaper
Soul Reversal

If there is no space behind the targeted monster when used, the Reaper will instead be moved into the space between her and the monster, if there is any.
Mystic
Volley of Curses

Effect of the Glyph of Enfeeblement increased from 9% to 10%

Aura of the Merciless

Titanic Wrath: Granted power increased from 40 to 48, and granted attack speed increased from 6 to 9.6.
Fixed problem that triggered level 1 instead when used between levels 3 and 9 (Amani Female).
Slayer
Knockdown Strike

The animation of In Cold Blood can be canceled to use other skills as chained skills.

Evasive Roll

Evasion duration increased slightly
Adjusted the distance covered by the roll between the Popori and the other peoples

Measured Slice

Damage is now shown correctly (High Elf Female, Human Female)
Valkyrie
Damage to other players reduced by approx. 10%
Archer
Radiant Arrow

Damage at level 11 is now correct (High Elf Female)

Rain of Arrows

Fixed problem that activated Rain of Arrows level 6 when Rain of Arrows was used as a chained skill (Amani Female)
Warrior
Traverse Cut

Level 10 is now used correctly (Baraka)

Blade Draw

Fixed problem that caused Blade Draw level 7 to apply the buff of Deadly Gamble (High Elf Female)
Priest
Zenobia's Vortex

Levels 2-10 are now used correctly (Castanic Male)
Berserker
Changed quest tooltips for 'Berserker Training: Punishing Strike' and 'Berserker Training: Axe Counter'
---
Dungeon Changes
Removed Manglemire
In the following dungeons you can now only advance to the next battle area if the previous boss has been defeated:
Balder's Temple
Necromancer Tomb
Golden Labyrinth
Ebon Tower
Labyrinth of Terror
Secret Base
Sinestral Manor
Ascent of Saravash
Cultists' Refuge
Akasha's Hideout
Saleron's Sky Garden
---
Other Changes
Various pets received through achievements can now be stored in the bank.
Items from the following quests can now be obtained again:

Linkia's First Brief
Linkia's Second Brief
Linkia's Third Brief
Linkia's Fourth Brief
Linkia's Final Brief
One Father's Legacy

The level of detail of character effects can now be adjusted separately for the open world and dungeons:

Level 2: best quality
Level 1: normal quality
Level 0: low quality

Changed boss monsters' loot in the guild war: new artisan items added
---
Fixes
Fixed problem that caused Dakuryon to attack an invisible NPC in the middle of the room in Velik's Sanctuary (Hard).
Fixed problem in Velik's Sanctuary that caused Darkan to be shown as still alive for some players although he had already been defeated
Fixed problem that caused the options to be reset upon server change if the equipment options for dual effects were left open
Fixed problem that caused the berserker class not to automatically receive the passive skill "Cyclone" upon reaching level 26
The number of completions of the Abscess Vanguard Initiative quest is now displayed correctly.
---
Regional Changes
Rootstock Festival activities will end, and get activated again later in September together with the Bamarama.
Sky Cruiser Endeavor EXTREME
Look forward to the reworked Sky Cruiser Endeavor EXTREME! The new version of the dungeon is based on your feedback on the old version. It can be entered from 12th September. Here are some of the changes:
First room
Defense of various enemy types reduced by up to 30%
HP of archers and titans reduced by up to 15%
Second room
Third room
The battle against Darkan is now a race against time – with a timer that slowly but surely counts down to 0!
Attack values of some of Darkan's attacks have been increased
When Darkan has less than 30% of his HP, he gets…
… faster!
… stronger!
… deadlier!
---
Notes
Patch 59 adds the Korean updates from 27th April to 18th May 2017.
Next up we're working on Patch 61, which includes the Korean patches from 25th May to 27th July 2017. We are therefore skipping Patch 60 and will be releasing the new enchantment system in October, along with some challenging and interesting dungeons!