Shop Update: Elin Fashion Chests and Discounts
The heavily armed new Gunner is kicking up a storm in Arborea – and to celebrate, we've overhauled the offers for Elins in the TERA Shop. Plus we have plenty of discounts lined up, and in the Elin Arcane Armor Crate you even have a chance to land a special bonus!
Elin Arcane Armor Crate

Contains 200 Fashion Coupons and one of the following costumes guaranteed:
Unified Theory Institute Uniform
Heavy Snowfall Hauberk
Celebrity Hauberk
Bloodlayered Platemail
Simplelife Hauberk
Idoneal Hauberk
Pink Hauberk
Copper Unified Theory Institute Uniform
Magenta Unified Theory Institute Uniform
Plus you have a chance to get a Pink Arcannon exclusively for Elins!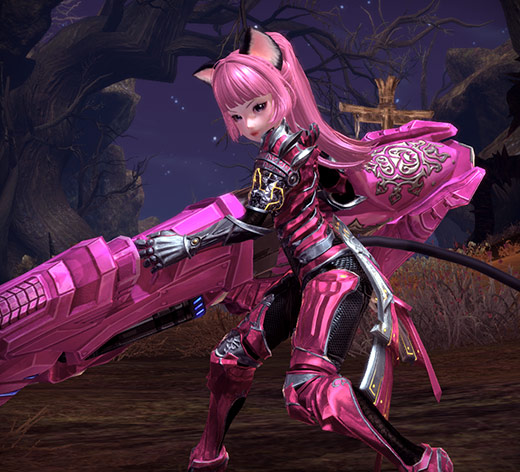 Enchanting Elin Fashion Chest

Contains one of these costumes:
Dyeable Paw Outfit (Elin) + Cat Whiskers
Red Paw Outfit (Elin) + Cat Whiskers
Black Paw Outfit (Elin) + Cat Whiskers
Black Deluxe Kimonokini (Elin)
Pink Deluxe Kimonokini (Elin)
Elin Raincoat
Elin Dyeable Raincoat
Schoolgirl Outfit (Elin)
Dyeable Schoolgirl Outfit (Elin)
The following articles are heavily discounted until Tuesday, 21st November:
Character Transfer
Heroic Chest: Beasts of Legend
Heroic Chest: Cute Pandas
Laundry Basket: Light Underwear
Laundry Basket: Dark Underwear
Laundry Basket: Dyeable Underwear
Laundry Basket: Underwear Mix
Feline Predators
Flying Pegasuses
Struthios
Flying Llamas
The following chests and packages have been removed from the shop:
Elin Fashion Chest
Glamorous Elin Fashion Chest
Colorful Elin Fashion Chest
Elin Beach Fun
Elin Rainwear
On top of all that, we've permanently reduced prices on the following items:
Gender Change Voucher
Guild Name Voucher
Inventory Expansion
Bank Expansion
[Server] Wardrobe Expansion
Character Transfer
Additional Character Slot (3-8)
Additional Character Slot (9-18)
Package: Caddy and Wardrobe Expansion
Package: Totes and Wardrobe Expansion
Package: Popolin and Wardrobe Expansion
Lock 'n' load with your Gunner and go gung ho in Arborea!

Have fun,

The TERA Team