Shop Update: Flying Exo-Armor
Hit the skies with the IM39 Prototype – and we mean that literally! Starting today you can pick up a full package containing the dyeable exo-skeletal armor and various matching accessories on the Wheel of Jackpots. You'll also find the Flying Skill: Free Flight inside which allows you to fly without the need of a flying mount, as long as you have the IM39 Prototype equipped.

Don the helmet or visor, slip into the futuristic armor and soar through the heavens of Arborea with the integrated jetpack!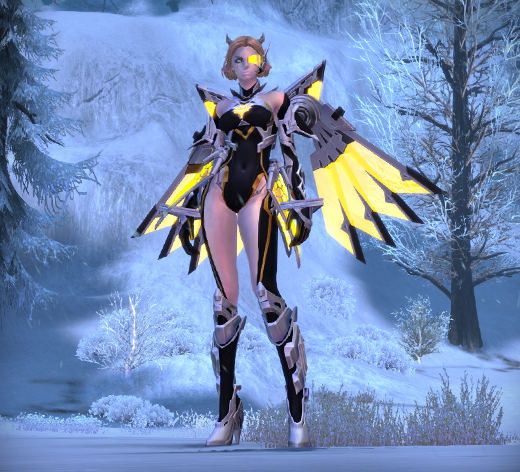 Please note that the plasma wings can only be worn by female characters. The head accessories are similarly limited to male or female characters respectively.
New Prizes

The following items have been added to the Wheel of Jackpots:
Jackpot segments:
[New] Flying IM39-Prototype COLORSTORM - Smart Box: IM39 Prototype COLORSTORM + Flying Skill: Free Flight + IM39 Plasma Wings S + IM39 Visor S + IM39 Prototype Helmet S


Jackpot segments:
[New] Flying IM39-Prototype COLORSTORM
Normal segments:
[Removed] Smart Box: Goddess of War Armor
[Removed] Smart Box: Kaia's Weapon Skin
[Removed] Smart Box: Raging Fires Armor
[Removed] Smart Box: Darkan's Weapon Skin