Shop Update: Like a Boss!
Like a Boss!

The Grand Magus Imperator Dakuryon… wait, what's all this "grand" nonsense?! The MINIATURE Magus Imperator Dakuryon makes one mighty fine sidekick!

From today you can pick up Lakan's tyrannical servant on the Wheel of Jackpots. Don't let his diminutive size fool you. Inside he's just as powerful as ever, and provides a comprehensive luxury package for brave adventurers:

He carries a pet pocket with 72 slots, automatically gathers loot and gold, consumes 20% fewer production points when harvesting essences, plants and ores, and depending on the version he automatically hands you potions from your inventory – finally putting Lakan's Power to good use!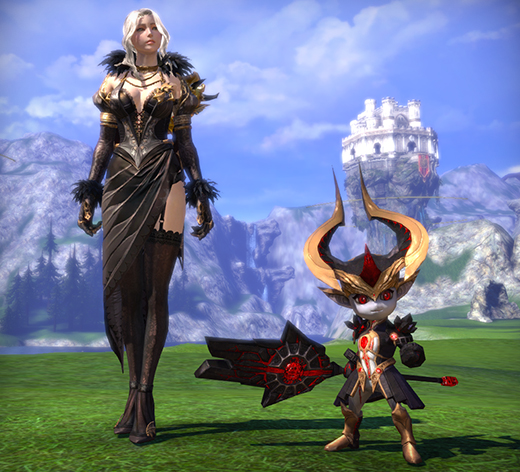 New Prizes

The following items have been added to the Wheel of Jackpots:

Jackpot segments:
[New] Care and Use of Your Pet Magus Imperator Dakuryon (large potion below 50% MP)
[New] Care and Use of Your Pet Magus Imperator Dakuryon (health potion below 30% HP)
[New] Care and Use of Your Pet Magus Imperator Dakuryon (Infusion below 30% MP)
Normal segments:
[Exchanged] Trade Chest: Veilthroch (the item in the chest is tradeable, the non-tradeable version was removed)
Other Changes

Normal segments:
[Moved to normal segments] Smart Box: Cherry Blossom Weapon Skin (13 Classes)
[Removed] Divine Archangel Wings
[Removed] Sinister Wings of the Fallen