Wave of sun and love - contest
Sun, love, a special request and… a contest!
While a heat wave falls on Arborea, the valiant fighters take advantage of a few moments of respite to bask in the sun. Among them, some have decided that it was the perfect time to celebrate something very special: their love.
Indeed, in the Sylvanoth Forest's chapel, a wedding proposal has been made and some witnesses were able to film this moment:
Their love now shines on Arborea's lands and inside all heroes' hearts.
Here is the perfect opportunity to bring a little warmth and some love to our loading screens. Winners of this contest will be rewarded with a TERA Mug, a Smart Box: Deluxe Beachwear, a Surfboard and will get the chance to see their creation published in game!
---
How to participate:
Design an original piece of art with the dimensions 1920x1200px, formatted either as a .JPG, .PNG, .TIFF, .BMP or .PSD with a 24bit resolution.
Your artwork's theme must be "Summer & Love"
Submit your creation via email with the title "Summer&love" before Sunday, July 2nd 2017, 23:59 CET to contest@tera-europe.com
Don't forget to include your character's name and server in your email.
Prizes:
Top 5 :

1x TERA mug
1 Smart Box: Deluxe Beachwear (Permanent)
1x Surfboard
creation published in game
Top 10 :

1x TERA mug
1 Smart Box: Deluxe Beachwear (Permanent)
1x Surfboard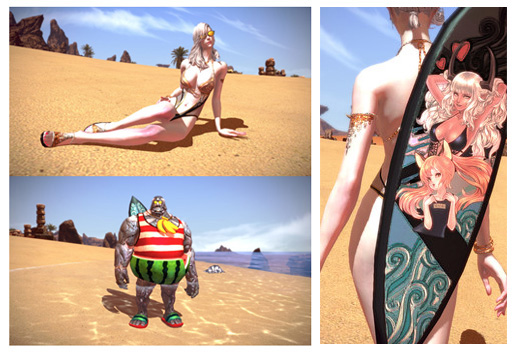 How the winners will be picked:
The TERA Team will pick the top 10 creations and then a forum poll will be initiated, allowing all forum-users to vote for their favorite Fan Art! The top 10 winners will be published on our Facebook and Twitter pages.
Keep in mind:
Only one submission per e-mail account
The participant needs to be the creator of the submitted image holding all legal rights attached to it.
You must be more than 18 years of age.
Cheating and trying to manipulate the votes will get you banned from this contest
By participating in this contest you accept our Terms and Conditions
---
Multiple contests will be running throughout this summer, so stay tuned!
Good luck to all =)